Adoption helps the abandoned child to experience the joy of being grown up by the parents. If offers the kid a hope to raise their dreams. Adoption benefits the parents too by making them experience the joy of adding a child to their family.
It is very interesting to see many celebrities adopting children and giving them a new life. Adoption requires a lot of mental preparation and commitment to look after the child. Adoption comes out from the kind hearts.
This article discusses the benefits of adoption. It presents the list of a few celebrities who have adopted children.
Benefits of Adoption:
The reason to adopt a child may vary from family to family. Some parents choose to adopt a child as they are infertile. Some others choose to adopt a child to fill up the grief of the baby they encountered in the past. Many others adopt a child to offer the best parenting to the needful.
Here are a few benefits that adoptive families get:
Adoption gives infertile couples, LGBT couples, and single people to experience the joy of being parents.
Adoption gives the adoptive parents an opportunity to offer a loving environment for the needful child.
Adoptive parents will be able to fulfill the dreams of raising a child
It offers the adoptive parents an opportunity to form relationships with the parents of the adopted child.
The benefits that adopted child get are:
Adopted children will be able to frame their live in a safe, secure and loving environment.
Adopted children can get better financial support for the quality of education from the adoptive parents
Adoption offers the adopted child to enjoy the benefits of being grown up under the shelter of relationships.
It offers the adopted child a platform to achieve their dreams.
Celebrities Who Adopted a Child:
Here are a few celebrities who have adopted children and set a good examples for society.
1. Ty Burrell:
Tyler Gerald Burrell, is an American actor and comedian. This family holy star married to Holy in 2000. They adopted their first daughter, Frances, ten years later and second daughter after 12 years later after their marriage in the year 2012.
2. Katherine Heigl:
Katherine Heigl is an American actress and a famous fashion model. Katherine along with her husband, Josh Kelly, adopted their daughter in the year 2009. She adopted her daughter from korea.
3. Julie Andrews:
Julie is one of the best celebrities who have adopted kids. Dame Julie Andrews is a Hollywood actress, singer, and author. Her husband, Blake Edwards was a director who passed away in 2010. This music actress adopted two daughters Amy and Joanna in 1974 and 75.
4. Denise Richards:
Denise Lee Richards is a famous American actress and a former fashion model. She was married to charlie sheen and has two daughters with him. In June 2011, Denise Richards adopted a third daughter Eloise Joni Richards, as a single parent after divorce with Charlie Sheen.
5. Lionel Richie
Lionel Brockman Richie Jr. Is an American songwriter, composer, multi instrumenta list, record producer, and actor. He adopted a fashion designer and TV personality, Nicole Richie. Lionel spoke out in an interview that he has seen Nicole on the stage at Prince concert when she was just 4 years old.
6. Sheryl Crow
Sheryl Suzanne Crow is an American musician, songwriter, singer, and actress. She adopted her first child Wyatt when she was recovering from breast cancer in 2007. She also adopted another boy named Levi.
7. Viola Davis
Viola Davis is an American actress and producer. She appeared in film, television. Viola was the winner of Oscar award. She adopted her daughter Genesis, when she was just a baby in july 2011.
8. Angelina Jolie
Angelina Jolie is an American actress, filmmaker, and humanitarian. She was named as Hollywood's highest paid actress several times. Jolie gave birth to daughter Shiloh in 2006 and twins Knox and Vivienne in 2008 with her partner Brad Pitt.
She adopted 3 children:
Jolie adopted 7 months old Maddox from Cambodia in 2002.
She adopted 6 months old Zahara Marley from Ethiopia in the year 2005
Jolie adopted 3 years old Pax Thein from Vietnam in the year 2007.
9. Madonna
Madonna is one of the famous people who have adopted kids. Madonna Louise Ciccone is an American singer, songwriter, actress, and businesswoman. She is referred to as the 'Queen of Pop' since 1980's. Madonna gave birth to her daughter Lourdes in 1996 and Son Rocco in 2000.
She adopted four children from Malawi.
● Madonna adopted an infant named David in the year 2006.
● She adopted 4 years old Mercy in the year 2009.
● She adopted 4 years old Esther and Stella from Malawi in the year 2017.
10. Elizabeth Taylor
Dame Elizabeth Rosemond Taylor DBE was a British- American actress, businesswoman, and humanitarian. She began her career as a child actress in the year 1940 and became the popular star in 1950.
She gave birth to two sons Michael and Christopher with her partner Michael Wilding, in the years 1953 and 1955 respectively.
She gave birth to a daughter Liza with her partner Mike Todd in the year 1957.
She adopted 3 years old Maria from Germany in the year 1964.
11. Ewan McGregor
Ewan Gordon McGregor OBE is a Scottish actor. He is well known for various film roles, including independent dramas, science fiction epics, and musicals. He married Eve Mavrakis in the year 1995. They together have two daughters Clara Mathilde, and Esther Rose.
They adopted two children:
Ewan McGregor along with his Ex-wife Eve adopted 4 years old Jamiyan from Mongolia in 2006.
They adopted another daughter named Annouk in the year 2011.
12. Meg Ryan
Meg Ryan is an American Actress and producer. She started her career with minor roles in 1981. She gave birth to the child Jack with her partner Dennis Quaid in the year 1992. They adopted 14 months old Daisy from china in the year 2006.
13. Sushmita Sen
She is a famous Indian actress and entitled Miss India in 1994 and Miss Universe 1994 at the age of 18 years. Being a single mother she adopted two daughters, Renee and Alisah.
14. Sunny Leone:
Karenjit Kaur Vohra, known by her stage name Sunny Leone, is a famous pornographic actress active in the Indian film industry. Her another stage name was Karen Malhotra. She has American and Canadian citizenship.
Sunny Leone along with her husband Daniel Weber adopted a girl child Nisha from Maharashtra.
15. Sakshi Tanwar
Sakshi Tanwar is an Indian actress and Television Presenter. She adopted a nine months old baby girl in October 2018.
16. Tom Cruise:
Tom Cruise is an American actor and film producer. He has received many awards including 3 golden globe awards and nominated for three academy wars. Cruise married to actresses Mimi Rogers, Nicole Kidman, and Katie Holmes. He had a biological daughter with Holmes. Cruise along with his second wife, Kidman adopted Isabella Jane and Connor Antony.
17. Sandra Bullock
Sandra Anette Bullock is an American Actress, producer, and philanthropist. She was recognized as the highest paid actress in the world in 2010 and 2014. In 2015, Bullock was chosen as the People's most beautiful woman and was included in Time's 100 most influential people in the world in 2010.
Sandra along with her ex-husband adopted son Louis in January of 2010. Later she adopted a daughter named Laila.
18. Brad Pitt:
William Bradley Pitt is an American actor and film producer. He received two Golden Globe awards and an Academy Award for his acting.
Brad Pitt along with his Ex-wife adopted 3 children:
Maddox was adopted from Cambodia when he was 7 months old.
Zahara Marley from Ethopia, was adopted at 6 months old
Pax from Vietnam was adopted at 3 years old.
19. Steven Spielberg:
Steven Allan Spielberg is an American filmmaker. He was marked as one of the most popular directors and producers in the Hollywood film industry.
Steven and his wife Kate Capshaw have seven kids collectively. Out of 7 kids, their son Theo and daughter Mikaela are adopted.
20. Mariska Hargitay
Mariska Magdolna Hargitay is an American actress. Hargitay started on Law & Order: Special Victims Unit since 1999.
She has a biological kid named Peter Harmann. In 2012 Mariska along with her husband adopted a daughter Amaya Josephine.
21. Josephine Baker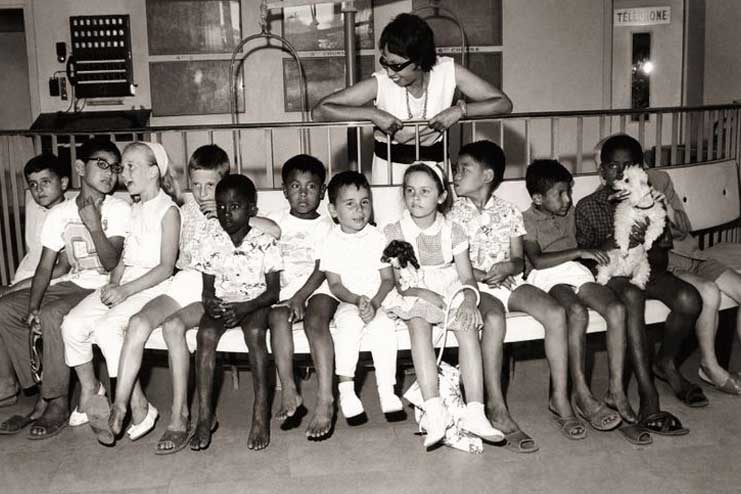 Josephine was an American born French entertainer, French resistance agent, and civil activist. She adopted several children of different races and ethnicities. Baker adopted two daughters Marianne and Moroccan. She raised 10 sons.
22. Mia Farrow
Maria de Lourdes Villers "Mia: Forrow is an American actress and activist. She was a former fashion model. She got many awards including a Golden Globe awards and three BAFTA Award nominations.
She adopted 10 children from all over the world.
23. Mary-Louise Parker
Mary Louise Parker is an American actress and writer. She adopted a girl named Caroline from Ethiopia in 2007.
24. Emma Thompson
Dame Emma Thompson DBE is a British actress, Screenwriter, activist, author and comedian. Emma Thompson and her husband Greg Wise adopted Tindyebwa in 2003, who was a former soldier from Rwanda. Using IVF, she gave birth to a girl Gaia in 1999.
25. Connie Britton
Constance Elaine Britton is an American actress, singer and producer. She adopted 9 months old Yoby from Ethopia in 2011.
26. Jim Caviezel
James Patrick Caviezel is an American actor. Jim and his wife Kerri Browitt adopted david, Bo, and Lynn from chins.
27. Diane Keaton
Diane Keaton is an American actress, director, producer, real estate developer, author, and singer. She was regarded as one of the most popular actresses of 1970s and 1980s. She received various awards including an Academy Award, a BAFTA award, two Golden Globe Awards, and the AFI life achievement award.
She adopted a girl named Dexter in 1996 and a boy named Duke in 2001.
28. Kristin Davis
Kristin Laden Davis is an American actress. She adopted a baby named Gemma Rose as a single mother in the year 2011.
29. Mithun Chakraborthy:
Gourang Chakraborthy, known by his popular stage name Mithun Chakraborthy is a famous Indian actor, singer, producer, writer, social worker, enterprenuer, television presenter and former Rajya sabha member of the parliament. He received many awards including two filmfare awards, and three National Film Awards.
Mithun Chakraborthy, being a kind hearted adopted a baby girl who was found in a street side garbage bin. He named the girl as Dishani. He already has three biological sons when he adopted Dishani.
30. Cate Blanchett
Catherine Elise Blanchett AC is an Australian actress. She is well known for her roles in both high profiles and low budget independent films.
She adopted a baby girl named Edith and she has three biological children.
Celebrities also have a kind heart towards the abandoned children. This article presented a list of few celebrities who gained fame in the film industry and in the society for adopting children.