Physical activity is an important part at all ages as it improves mental and physical fitness. Most of the parents complain that their kids are lazy, poor with cognitive functioning, lack of height growth and many others. But parents don't realize all these come from healthy diet and physical activity.
The pediatricians say that kids of 6 years old and above need physical activity for their overall health and wellbeing. Make sure that your child spends around 60 minutes a day for physical activity. Making exercise a routine habit at an early age helps develop strong immunity and strengthen the muscles in the long term. But what are the fun and exciting physical exercises for kids?
If you are falling short of ideas to teach your kids and keep them engaged for their slot of physical activity in a day this article is for you. We have included the best physical activities and outdoor games for your kids. But we also caution you to be extra careful when you are taking your kids to a game amidst COVID pandemic.
10 Best Physical Activities Fun Games For Kids
Your kids having regular physical activity does not mean arranging a kids gym in particular but it can be many other things. Physical activity can be gentle, just like a game, a brisk walk or walking to the grocery store. Making exercise routine tough and tedious for your children can make them quit it even before they actually adopt it. So, let them do these super fun, playful physical activities for them to enjoy their time of it.
1. Table tennis
If parents are looking for an indoor game for their kids' safety during a pandemic then table tennis is the best. You can install a small table for your child to play table tennis with friends, family members. The sport involves the players to run, stretch their body which is equal to doing an exercise. It is a safe, fun way to get their physical activity done in a day.
2. Gardening
Do you take care of your back yard then let your child help you a bit this time. Planting the sapling, cleaning the ground, removing the clutter keeps them busy in lifting the small pots, creating the pits. This can be a fun task while your child is physically active and works with mind which develops the alertness.
3. Hula hoops
Kids love hula hoops as they find it playful to wear it around the waist and simply rotate it. Get a hula hoop for your child and teach how to play with it. They don't even realize it is an exercise tool you bought for them but get involved with it for longer. You can add it as one of the physical exercises for your kid among many.
4. Scavenger hunt
You can arrange for a scavenger hunt indoors or outdoors. If your house is big enough then it is going to be more fun. You just have to hide the things in secret places and give instructions to your kids to hunt the hidden things within the house. It helps them improve their mental alertness, thinking capability which are cognitive skills that develop as they grow.
5. Wrestling
If you are a parent of more than two kids then let them wrestle. See that your kids play it safe without hurting to win over each other. Otherwise, you can wrestle with your kids for them to get involved in the activity while they enjoy it safely. But wrestling is an energy consuming activity that makes kids tired, have some fun, and become physically active as well.
6. Musical chairs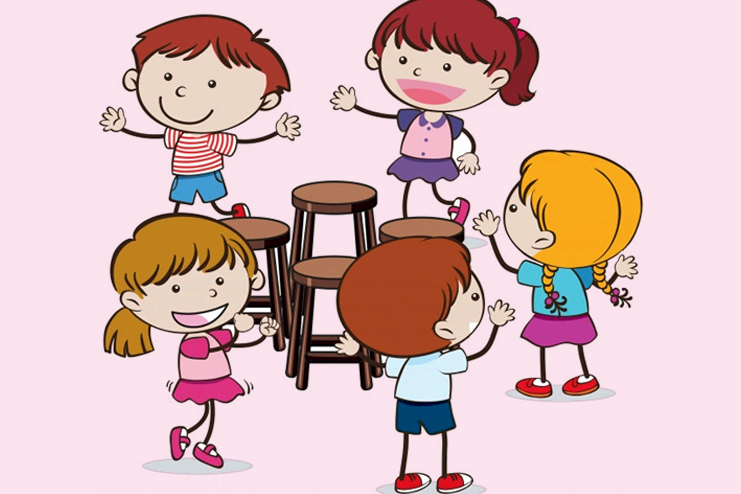 It is a fun activity for kids and their parents but kids don't see it as an exercise yet it has the benefits. The game needs the participants to run around the chairs to secure their place. If you kids are bored of practicing the monotonous exercises then let them play this game for a few minutes. They become mentally alert, physically active as they chase for a chair and it creates a happy atmosphere at home too.
7. Freeze dance
Another amazing way for your kids to keep physically busy is freeze dance. Have incharge to operate music with dance and freeze instructions and all the participants in the room must tune with the music being played there. Shake a leg with your kids and have that adorable family time. This also awakens your little one's mind, mood and will start loving dance everyday which is as good as a physical activity.
8. Obstacle course
Another super cool and physically involving activity for your little ones is obstacle course. The activity is nothing but creating certain tasks like passing through the tables or a blanket tunnel and setting a goal to reach without any time limit. This keeps the child moving till the end of the game hence you can play it often. If your child is refusing to do physical exercise then give them such a fun task where they get excited and get indulged to reach the goal.
9. Follow the leader
Follow the leader is an easy way to conduct indoor activity. You can be the leader or give your child a chance. Leader does some actions like jumping, laughing, dancing, singing and all the participants must follow the leader which is going to be.
10. Hop over the cushions
Kids love jumping and hopping for no reason. Arrange a flat surface like bed and place the cushion with closer distance in a straight line. Now ask your kids to jump over each cushion which is an excellent idea to keep them physically active and fit. As they jump, it consumes energy and reduces the risk of being overweight
8 Best Outdoor Games For Kids
1. Hopscotch
Do your kids have friends around the same locality of yours? Then gather them to play hopscotch. It is a merrymaking game for kids as they hop on with excitement and when they get their turn to continue hopping. But we want you to limit the gathering and take precautions as it is an outdoor game.
2. Go for a walk
Take your little one for a quick, small distance walk to get out of their laziness. You can take them along with you to pick the groceries from the store, to meet a friend or to simply take some fresh air. Walking or taking a flight of stairs is not only a good way to get exercise benefits for adults but also for kids.
3. Ride a bike
Pedaling a bike strengthens kids legs and arms. If your child is below 8 years then monitor them and see that they take a few rounds around your house. It also calms your child's mood, has a healthy break from continuous study, and stress. And if it is teen kids, they will know the COVID precautions so you can allow them to go independent for a few minutes of a bike ride.
4. Fly a kite
Are you waiting for the kite festival in your locality? Actually, there is no such day to restrict kite flying. You can make your own kite at home and let your child fly a kite as it is a fun loaded activity. Kids love seeing high flying kites and I'm sure they can't get enough. It is a great physical activity as it involves hand and leg movements. Workout need not be rigorous always especially for kids so flying a kite is still the best outdoor activity.
5. Running race
Let your child take part in a running race with their siblings, friends. Let it be a fun running race which helps your child to learn to become sportive and friendly with other kids. As they rigorously run to reach the goal, it keeps them fit, super active throughout the activity. You can conduct the race at home but outdoor racing is more fun. It aids to strengthen a child's leg and hand muscles, reduce belly fat and energy expenditure activity for kids.
6. Swimming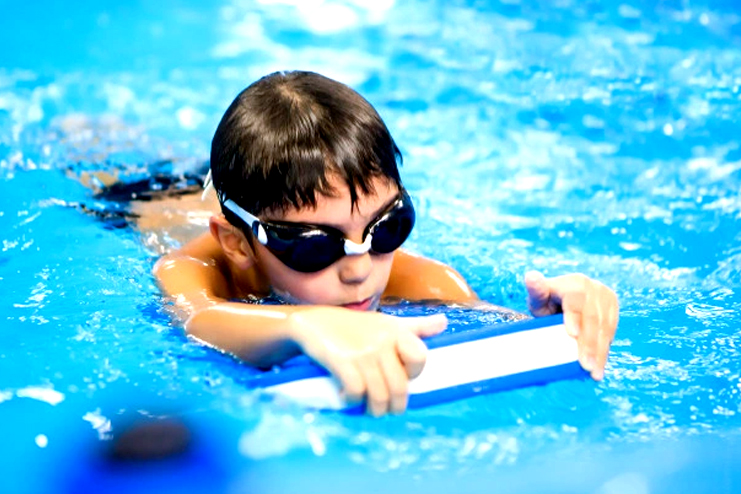 You can take your kids for swimming as it is a full body workout. It keeps fit and aids in maintaining the health of kids and adults too. Go along with your child and swim for a few minutes 2-3 times a week for them to have physical activity and fun time in the water. But also make sure you are following the safety precautions to avoid COVID infection at pools.
7. Hide and seek
If you have a backyard then it is a lot of room for many outdoor games for your kids. One of the best games for kids to play is hide and seek or red rover. Teach your kids the rules of the game and you can be a part of their game to look after their safety. The game involves kids running, hide and countdown which is loads of fun and keeps them physically active. It also improves their social skills, takes some fresh air, and actively be friends with their peers.
8. Build Sandcastles
Hit the beach for your kids to play around with sand. They will start to build sand castles with all their energy to build a sand castle. And they run to collect the sand, sticks and all the material to build it. You can even get some sand for your kids to do this activity at home if you want to ensure safety during the pandemic and make sure of taking the health protocols like if you want to explore a beach.
Benefits of physical activities for kids
Regular physical activity can improve cardio and respiratory health which are the two crucial functions for anyone. (R) Most of the children are suffering from health problems like obesity, anxiety, and depression at a very young age. Physical activity is capable of preventing these health conditions and may reduce the present conditions as well. Parents must know the physical benefits in detail to encourage their kids while they practice for themselves.
Prevents the risk of being overweight and maintains a healthy weight
Calms the mind and allows to have a restful night sleep
Gain body balance, posture, and flexibility
Keeps the heart, lungs, and other vital functions normal
Keep them up with high energy levels throughout the day
Aids in strengthening bones, muscles
Become better with cognitive skills and improved memory
Helps gain confidence and stronger mentally, physically
Many parents are trying hard to involve their kids in physical activities knowing the benefits. But kids refuse to show interest in workout, fitness. If you want your kid to gain the benefits of physical activities then it need not be a yoga or cardio exercise.
Allow them to play a sport, walk in the garden and assign simple household chores or conduct an indoor or outdoor fun activity. These physical activities are great when you are at your wit's end to motivate your child for fitness. I bet on it, your child will love all these activities and games.